Listen to my Repertoire
Choosing the right music is imperative to creating the right atmosphere for your wedding ceremony. Below is the order of service for a church wedding ceremony with a listing of songs or instrumentals which should satisfy your musical taste, however varied and on the right are some samples of my work which you can listen to.
The selection can be tailored to suit a civil ceremony. Please contact Caroline directly for her full repertoire. If you have a particular favourite song or piece of instrumental music in mind which is not listed here, please contact her in reasonable time and she will do her very best to accommodate you. If you are having a Winter wedding, why not choose some Christmas Carols to create a festive atmosphere. You can listen to some of the samples in the media player below.
Instrumental Music Before the Ceremony Begins
The musicians who accompany Caroline can set the mood for your wedding ceremony by playing instrumental music while your wedding guests arrive and await the beginning of the service.
Entrance
Bridal Chorus (Wagner)
Canon in D (Pachelbel)
Arrival of the Queen of Sheba (Handel)
The Wedding (You by my side)
O Mio Babbino Caro (Puccini)
The lighting of Outer Candles & Marriage Candle
Arioso (Bach)
Nocturne (Secret Garden)
One Hand, One Heart (from West Side Story)
From This Moment On (Shania Twain)
Responsorial Psalm
The Cloud's Veil (Liam Lawton)
On Eagle's Wings
'Se an Tiarna M'aoire (The Lord is my Shepherd)
You Are Mine (David Haas)
Offertory
Ave Maria (Schubert)
Ave Maria (Bach/Gounod)
Panis Angelicus
Ag Criost an Siol
Wherever You Go (Song of Ruth)
The Prayer (Celine Dion)
Air on G (Bach)
Caroline Reid O'Brien Repertoire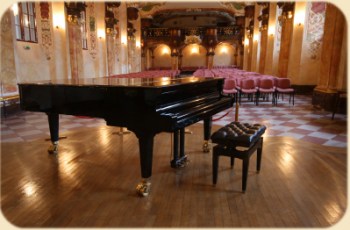 Sign of Peace
Tabhair dom do lamh
Shalom
An Chuilfhionn
Holy Communion
Nella Fantasia (Morricone)
Ave Maria (Schubert)
Ave Maria (Bach/Gounod)
Panis Angelicus (Franck)
Pie Jesu (Lloyd-Webber)
The Prayer (Celine Dion)
The Cloud's Veil (Liam Lawton)
The Water's Wide/When Love is Found
Air on G (Bach)
Flower Duet from Lakme (Delibes)
Sheep May Safely Graze (Bach)
Signing of the Civil Register
From This Moment One (Shania Twain)
Perhaps Love (John Denver)
She Moved Through the Fair
The Voyage (Christy Moore)
Fields of Gold (Eva Cassidy)
Songbird (Eva Cassidy)
All I Ask of You (Lloyd-Webber)
Longer (Dan Fogelberg)
Only Love (Nana Mouskouri)
You Raise Me Up (Josh Groban)
Annie's Song (John Denver)
Love Changes Everything (Lloyd-Webber)
Here, There and Everywhere (The Beatles)
Hallelujah (Jeff Buckley)
Jesu Joy of Man's Desiring (Bach)
Spring from the Four Seasons (Vivaldi)
Recessional
Wedding March (Mendelssohn)
Arrival of the Queen of Sheba (Handel)
Hornpipe Watermusic Suite in D (Handel)
Trumpet Voluntary (Clarke)
Trumpet Tune (Purcell)
Ne Deum H146 (Eurovision Theme – Carpentier)
If you would like to listen to more samples of my work, please contact me via the contact section on this site.